It's been a bit since I've posted about my latest craft endeavors. Homeownership has left me busier then anticipated, it's a good thing I suppose. Not to mention working 40+ hours a week doesn't help. I used to spend at least 4 hours a day being crafty, I'd say that's down to about 2 hours a day now. But somehow I manage to get things made. I guess I'm superwoman?


When it comes to knitting, I'm a bit squeamish when it comes to making sweaters. I would love to have a drawer full of cozy handknit sweaters. But I'm a bit scared to make them. The idea of spending so much time and money on a sweater only for it to look like crap on me is a bit off putting. So I tend to make a lot of blankets. It's a bit crazy because blankets take so long to make but I'm obsessed with making them. I have patterns to make at least 6 more, along with the fact I'm currently working on 2 more! Maybe I'll be kind enough to gift them to a relative or good friend....


Here's the first blanket. A baby blanket for an expecting cousin. I'm always a bit nervous about making large baby items. Just because some people don't know the amount of work that goes into them, even if they are smaller! It always saddens me to see hand knit or crocheted blankets at thrift stores. Yes some of them are in pukey 70s colors or made out of the nastiest, baby melting acrylic, but there's so much work that goes into these things. Anways, my cousin did appreciate the gift. And the blanket is mature enough (no prissy baby colors for this child!) that the kid will be able to use in the future or if the blanket wears well, it would still make for a nice lap blanket around the house.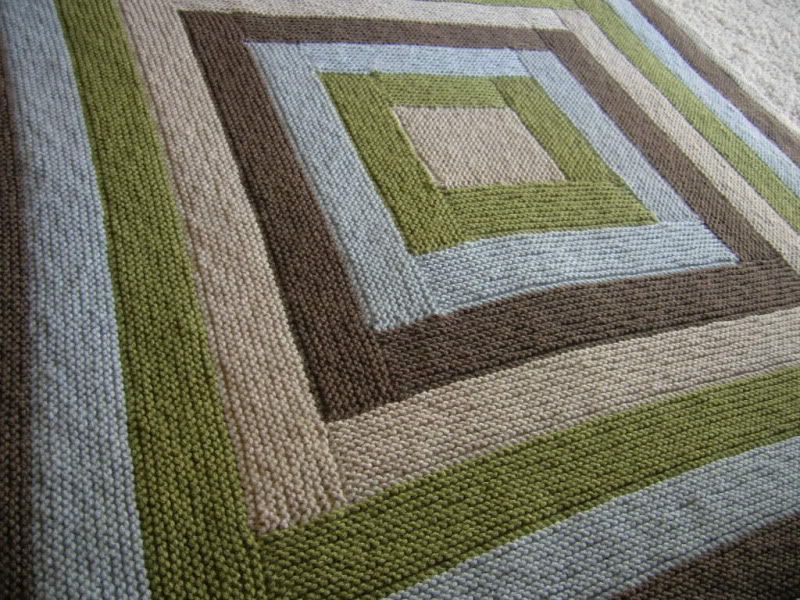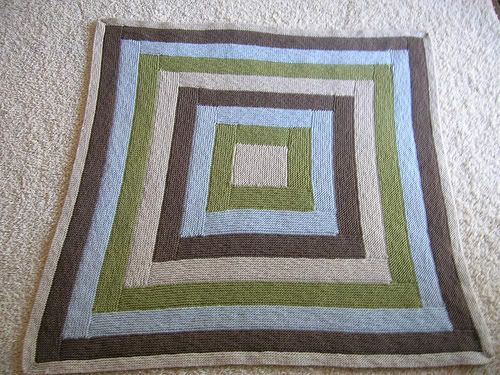 This other blanket is a bit crazy though. Why I am making such a labor intensive blanket made out of 100% wool is beyond me? But it will be gorgeous when it's finished. It originally started as my traveling project back when I was travelling more for work. I figured I'd knit a few squares for each audit trip I went on, and eventually I'd have a blanket. Well most of my travel got cancelled due to the economy. So instead I made a square each Sunday at my knitting group. I've finished making all 54 squares and now I'm sewing this son of a bitch together. The sewing has to be the worst part. I'm about 2/5 done with the sewing. But here's an in progress photo of my Lizard Ridge: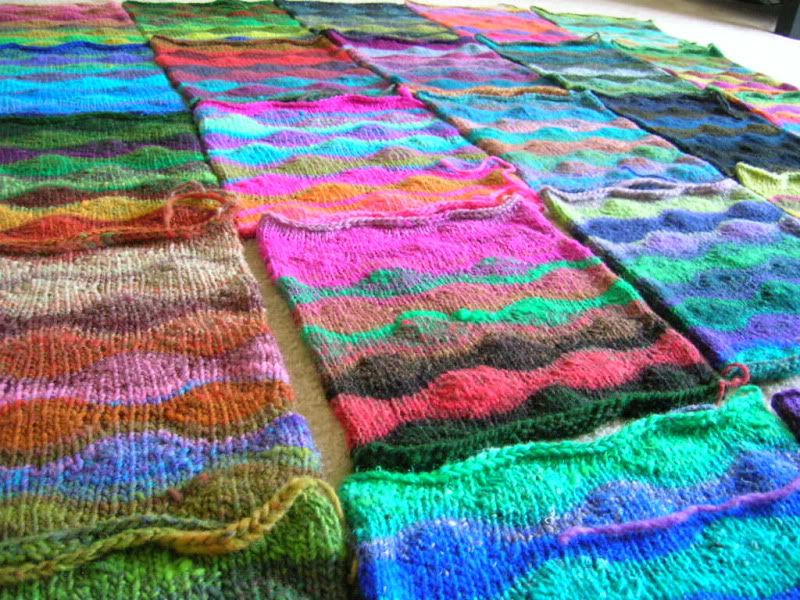 I've also recently become addicted to crocheting grannny squares. They're pretty fast and I found this awesome
so there's no need to sew all of the squares together! It's an OK method. It does leave gaps between the squares but it's worth it to not have to sew all of the squares together. And weaving in all of the yarn ends is a bitch and a half when you make granny squares.


Here's my first granny square blanket. It's made from leftovers from another crocheted blanket. I love the end result but it's a bit small for my liking. I prefer my blankets to be Queen sized (better for snuggling!) but this blanket came out more like lap sized.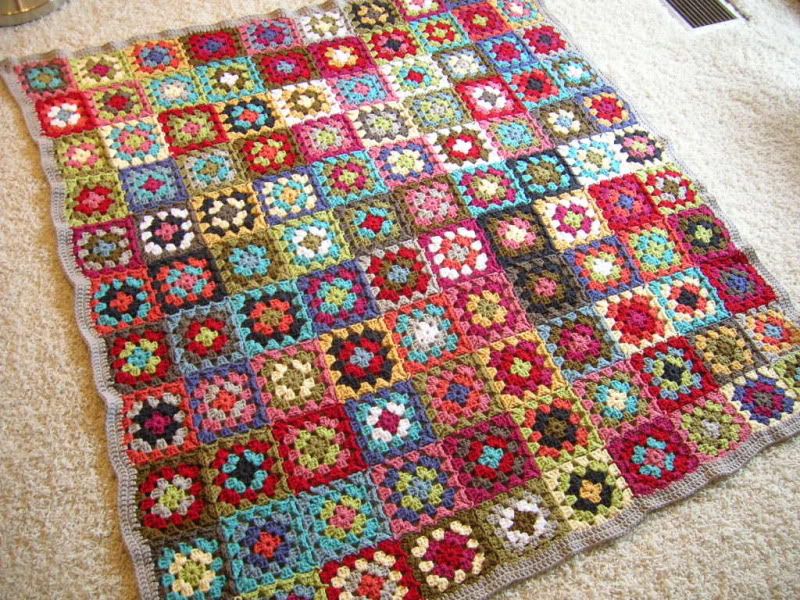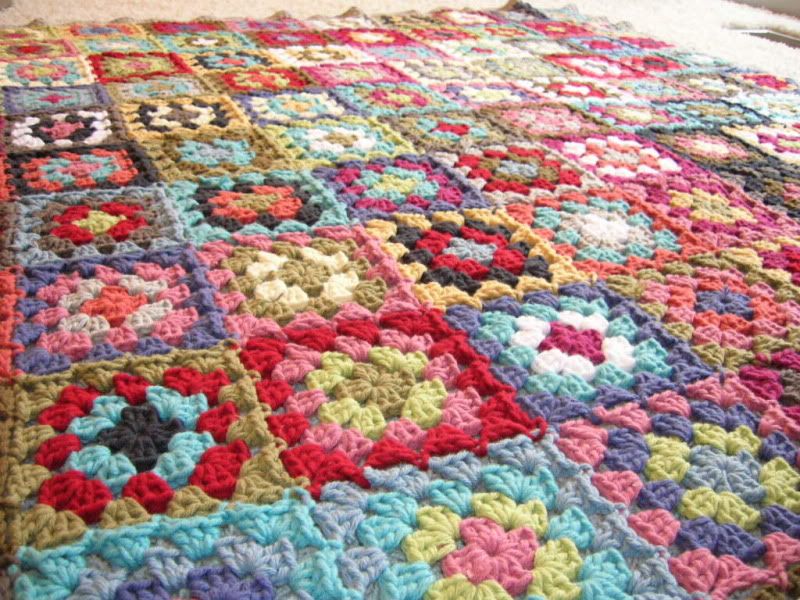 I've always been secretly obsessed with the granny square blanket you see on the Roseanne TV show. So I made one. But I made it out of chunky yarn so the granny squares are pretty huge. This blanket is also made from some yarn scraps. But I did buy a few extra skeins of colors and the black yarn. Not the best photo but it's a pretty cozy blanket.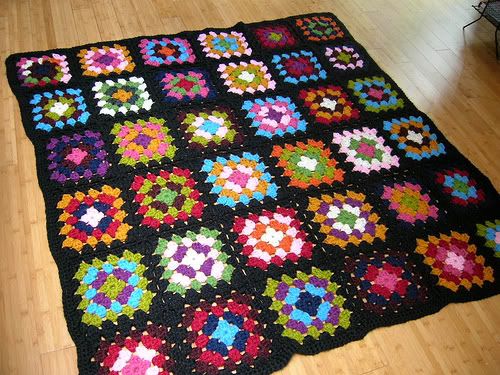 Next I combined both granny squares and ripple blankets for a granny ripple blanket. Crocheting with this boucle yarn kinda sucked but the end result is nice.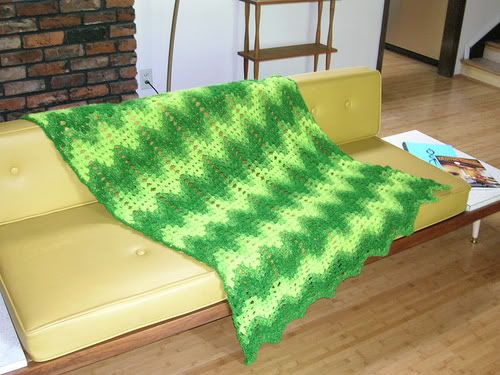 You would think that after all of that crocheting and yarn end weaving, I'd be a bit sick of granny squares. Well...you guessed wrong. I started up another granny square blanket, but this time it's granny hexes! This one is a bit crazy though since it's all out of fingering weight yarn that is 100% wool. But it should be gorgeous when it's done!